NAWOJ, UNICEF Partner On Yobe Girl-Child Education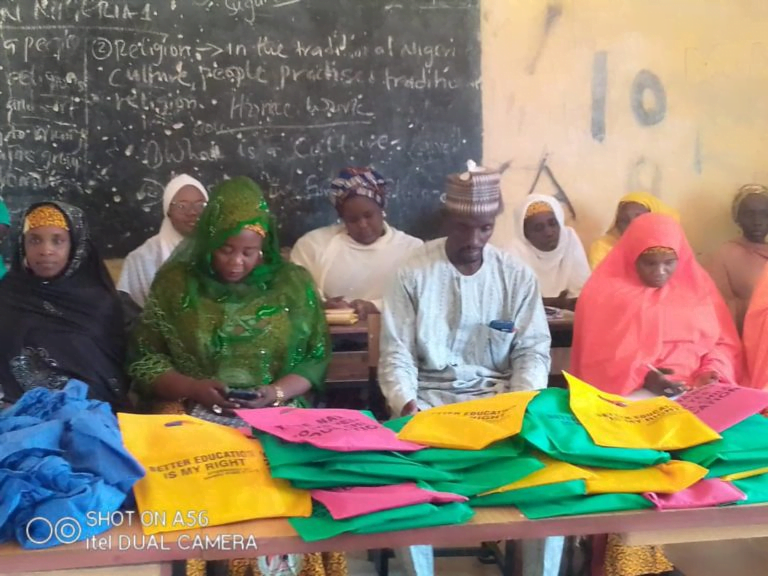 By Sani Gazas Chinade, Damaturu
The Nigeria Association of Women Journalists (NAWOJ), Yobe state chapter with support from UNICEF has distributed 50 sets of uniform,100 School bags, books and writing materials to girl-pupils of Nayi Nawa Primary School in Damaturu, as part of efforts to encourage and support girl child education in the state.

The Association also donated some of bags and writing materials to orphan Children recently enrolled into school by Sadaqatul Jariya Foundation (a Charity Foundation that voluntarily contributes to take care of orphans, widows and the less privileged in the society).

In her welcome address, the Chairperson of NAWOJ, Yobe State, Fatima Mohammed Ahmad said the effort is geared towards encouraging and improving Girl Child enrollment to School and compliment government efforts in the education sector.

The programme according to her was scheduled for last two weeks to mark the International Day for the Girl Child but couldn't hold due to some circumstances, "but NAWOJ believes that every day is for the Girl Child when it comes to empowering them educationally and that is why we are here today 30th Oct 2021".

The choice for Nayi Nawa Primary School she said is born out of the belief that the School contains Children of low income earners and has low record of interventions from NGOs.

The NAWOJ Chairperson used the forum to commend Yobe state government for declaring state of emergency in the education sector which she noted has begun to yield the desired result.

She advised the students to observe proper hygiene, be vigilant, security conscious and report any suspected person attempting to abuse or molest them sexually, be always prayerful and the sky shall be their limit.

Ahmad further thanked UNICEF for the support and expressed hope that their doors will always remain open for partnership and collaboration.

In a vote of thanks, the Vice Chairperson of Sadaqatul Jariya Foundation, Fatima Zanna explained that they have enrolled over 100 orphans to school this session and they consider proximity of the children in relation to the school they enroll them for easy transportation. they thanked NAWOJ for the donation, pointing out that it will definitely go a long way in encouraging their members to continue to contribute voluntarily for the course of humanity.

Also speaking, the Headmaster of the School expressed appreciation to NAWOJ for choosing his school as the beneficiary of such effort.

In his brief remarks, NUJ Chairman Yobe Council, Comrade Rajab Muhammed congratulated NAWOJ for yet achieving another feat of humanitarian success and pledged his continuous support to all their activities. Comrade Rajab added that the importance of Girl Child education in the society cannot be over emphasized and called on other NGOs and Philanthropist to emulate NAWOJ, he donated the sum of N10,000 to the school.