18 die, 12 injured in Kano auto crash – FRSC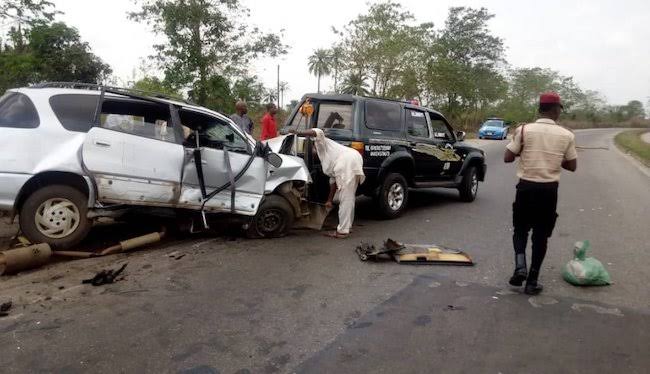 By Aliyu Dangida

Eighteen passengers were killed in an auto crash on Friday at Zakirai town on Kano-Ringim Road in Gabasawa Local Government Area of Kano state.
Twelve other persons were also injured in the crash while five escaped unhurt, FRSC Sector Commander in the state, Mr Ibrahim Abdullahi, has said.
Some of the corpses were given mass burial at the accident scene, while others were handed over to their relatives.
Abdullahi confirmed in a statement issued by the sector's spokesman, Mr Abdullahi Labaran that the accident involved two commercial vehicles.
"We received a call about the accident at about 8:35 p.m. on Friday and dispatched our personnel to the scene to rescue the victims,'' Abdullahi said.
He blamed the accident on excessive speeding, dangerous driving and overloading which led to a head-on collision and the bursting into flames of one of the vehicles.
"The accident involved a total of 35 passengers in two buses, out of which 18 were burnt beyond recognition while 12 others sustained serious injuries,'' he said.
Ibrahim said the injured victims were taken to Murtala Mohammed General Hospital, Kano.
He advised motorists to avoid over speeding, overloading, wrongful overtaking, dangerous driving and any infraction that could lead to road crashes.
The sector commander expressed regret at the magnitude of avoidable road crashes recorded in Kano State in the past week.
During a visit to the crash scene on Saturday, he warned motorists, particularly intercity and inter-state drivers to desist from overloading, excessive speeding, wrongful overtaking and other traffic violations.
Abdullahi assured that the FRSC would intensify public enlightenment and undertake stringent patrol interventions, including operation of mobile courts to stem the rising tide of intercity auto crashes.
NAN