2023 Guber Poll: Iyere drums support for Uzodimma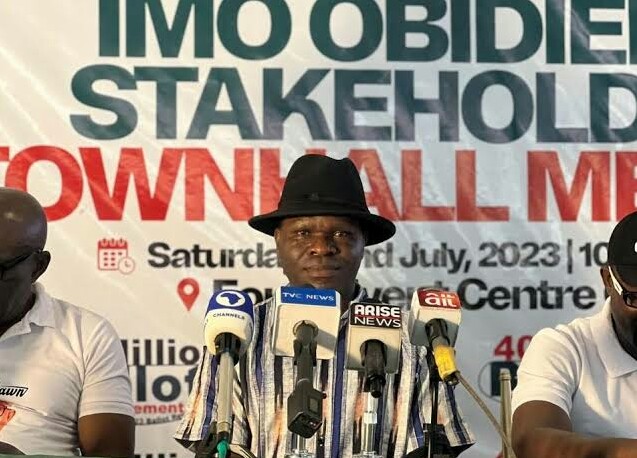 By Our Correspondent
….Organizes townhall meetings with Obidients
Nigeria's popular humanitarian activist and social entrepreneur, Comrade Kennedy Iyere has concluded plans to support the candidacy of Senator Hope Uzodinma as Governor of the Imo State for the second term.
He disclosed this during a town hall meeting held on Saturday, July 22, 2023, with major support groups of the Obidients Movement and their Coordinators from the 27 Local Governments of Imo State and across the 301 electoral wards.
The townhall meeting, titled "Imo Obidients Townhall Meeting" was witnessed by more than One Thousand Obidients, their coordinators, support groups and their allies.
During the townhall meeting, Iyere threw his weight behind Sen Hope Uzodinma, as his preferred choice, as he gave reasons that propelled his decision to support Senator Uzodinma's re-election in the forthcoming 2023 Imo Guber Poll.
According to him, the townhall meeting was necessary as more than 85 percent of the Obidients in Imo State will not hesitate to follow whichever direction he leads, hence there was the need to bring to their knowledge the reasons which prompted him to adopt Sen Hope Uzondinma, as his preferred candidate among others.
"I preferred Sen Hope Uzodinma because of his passion for development, interventions, human capital development which led to the creation of the SkillUpImo Project, which if properly implemented, will solve unemployment, grow youth enterprise, de-radicalize the youths and address insecurity.
"My own NGO, Youths Off The Street Initiative (YOTSI), is willing and prepared to collaborate with the SkillUpImo Project and help to facilitate foreign grants and other donor funds, which will help to up-scale the operations and the scope of the SkillUpImo Project for the benefit of Imo Indigenes.
"This strategic youth development initiative is one of its kind in Nigeria, beyond the youths, other young adults, women and men alike, are part of the beneficiaries of the SkillUpImo Project. Sen Uzodinma has proven himself to me that he is a 21st Governor, who understands the power of technology and the role it plays in the 21st Century Digital Economy.
"He knows the value of human capital and its role in promoting entrepreneurship and the growth of Micro, Small and Medium Entreprises(MSMEs), which is the surest way to enforce the accelerated growth of the GDP of Imo State".
"For such a Governor who has such an uncommon goodwill and leadership charisma, I will not hesitate to give him my support. This was the reason I had to gather together the "Imo Obidients" and enlightened them on the need to give their votes to Sen Hope Uzodinma for his re-election in the 2023 Imo Guber Poll", Iyere affirmed.
Iyere further said that Sen Hope Uzodinma ranks the best among Imo Governors elected since 1999, adding that his comparison is based on their individual performances.
He buttressed that the government of Sen Uzodinma has achieved and delivered more dividends of democracy to the people of Imo State than the combined achievements of Udenwa, Ohakim and Rochas Okorocha.
"Since 1999 till date, Sen Hope Uzodinma has done far better than any other Imo Governor, none has matched the record of Sen Hope Uzodinma, in terms of infrastructural and human capital development.
Orlu Road, Okigwe Road, Mbaise Road, SkillUpImo Project, the Growth of Imo IGR and GDP are among the facts to prove his outstanding achievements", he declared.
Iyere promised to launch a grassroots people's movement for Sen Hope Uzodinma, which will be driven by Imo voters, designed to mobilize and recruit voters across electoral wards for the re-election of Sen Hope Uzodinma.
According to Iyere, all lovers of positive human development and economic emancipation, will all sign up for this Movement, including teens, youths, young adults and the older voting populace.
"The Sign-Up-4-Hope Movement will be launched to exist as a grassroits People's Movement for Sen Hope Uzodinma, it is intended to help recruit the required critical mass of voters for the re-election of Sen Hope Uzodinma, its an independent organic ballot revolution for Sen Hope Uzodinma.
I can assure you that more than 85percent of Imo Obidients will join this Movement, reason being that, the Movement is championed by Comrade Kennedy Iyere, who is their frontline leader.
With my influence, I am certain that we will draw Imo Obidients to sign up for Sen Hope Uzodinma. They know me too well and they know my role in the evolvement of the Obidient Movement", Iyere said.