US Embassy trains female journalists for improved reportage of women issues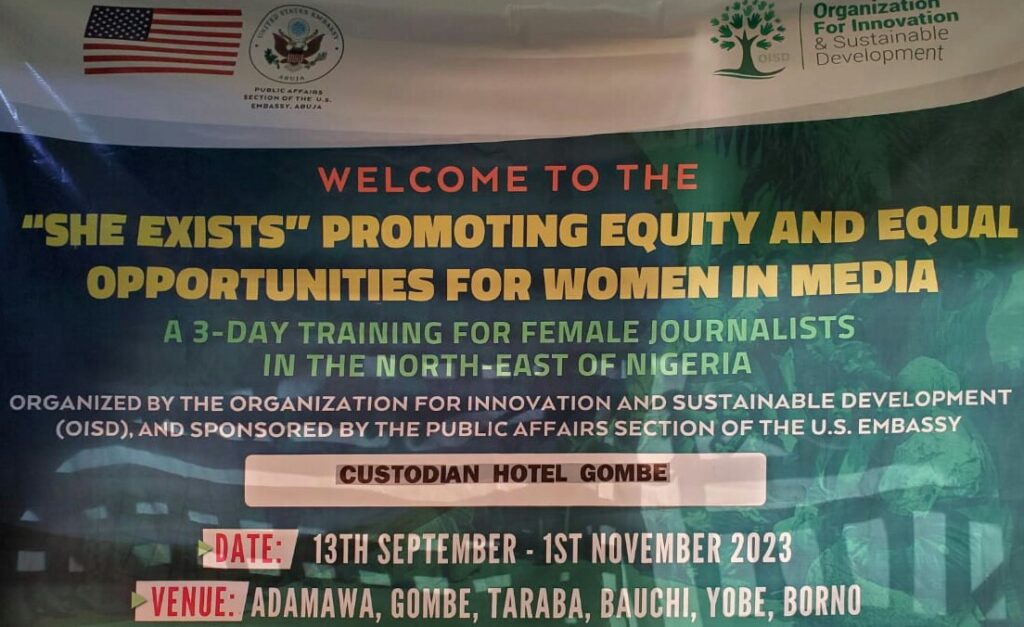 By Bitrus Osagie
The United States Embassy through its Public Affairs Section, in collaboration with the Organization of Innovation and Sustainable Development (OISD) has trained no fewer than 35 female journalists in Gombe State.
Aishah Gambari, Senior Information Specialist at the U.S. Embassy while declaring the training open, urged participants to be proactive and leverage the high-quality training organised by OISD to improve their performance.
Gambari said the training was to improve capacity of female journalists to amplify voices of women, hence called on participants to stepdown the training to younger female journalists towards improving reportage of women issues in the state.
She urged them to beam their searchlight on issues that relate to women and girls and give voices to the voiceless in the society.
She said the training was an avenue to empower female journalists in the state, adding that the benefits of empowering Women in Journalism through such trainings was key to ensuring effective reportage of women issues in the country.
Also speaking, the Executive Director of Organisation for Innovation and Sustainable Development, Mr. Jamilu Yusuf, said the media remained a critical stakeholder that could help drive positive change, influence policy, and shape society.
Yusuf said that journalists have the power to mould perceptions but urged them to be ethical, unbiased, and always guided by the highest standards of journalism.
"let us embrace this opportunity with open hearts and open minds. Let us learn, collaborate, and inspire one another. Let us emerge from this program as champions of equity, champions of truth, and champions of a brighter future," he said.
Mr. Ernest Ogezi, the Senior Programme Manager of OISD while speaking at the end of the three-day training workshop held in Gombe on Wednesday said women-related issues needed more reportage.
Ogezi said the training was aimed at addressing gender disparities within the media industry with focus on the Northeast in view of the fact that the region had been ravaged with so many issues from violence.
He stated that a woman was in better position to tell a woman's story effectively towards changing the narrative for the overall good of the society.
He urged female journalists to intensify and focus reportage on issues in the zone and Nigeria, which directly affects women and girls.
Ogezi said it had become imperative for female journalists to give voices to untold stories surrounding women as well as amplify issues that could result to positive change for women and girls in the state.
According to him, women in Gombe State and Northeast have unique stories that must be told and female journalists are better placed to tell the stories to create change.
"It is a three day training with nine modules on different subject matters including investigative journalism, equity and equality, ethics of news reportage, how to report women in violent conflict situations.
"Also, they were trained on how to report women who have suffered from sexual and gender-based violence. We are teaching ethics and trying to improve the performance of female journalists in these areas," he said.
The OISD official stated that women issues had not been given the needed reportage in the media in spite of having female journalists and "that is why we are empowering them.
"Female journalists have an advantage over male journalists when it comes to reporting women matters.
"They understand and can empathise, they can put themselves in the position of the other women and do better.
"That is why we are saying report women; women who are pushing their children forward through their petty trade, report women in any field, any day, anytime," he said.
While acknowledging culture as one of the issues hindering growth of women, Ogezi said women could grow without offending cultural norms.
"We are not here to change the culture but to improve the lives of women and this can only be done through women themselves."
Addressing the participants, Prof. Ibrahim Njodi, the Secretary to the Gombe State Government commended US Embassy and OISD for the training, noting that it would help strengthen efforts at improving the welfare and well-being of women and girls in the state.
Represented by Mrs Sa'adatu Bome Ishaya, the Permanent Secretary Ministry of Women Affairs, Gombe State, Njodi tasked the female journalists to do more in reporting issues that will help address challenges faced by women and girls in the state.
Speaking on the benefit of the training to her as a participant, Miss Rebecca Maina, a female journalist with Gombe Media Corporation said the training was a call for more action.
Maina said in the course of the training, she was able to identify gaps in reporting women-based issues and "now I am more energised to amplify as well as advocate issues that concern women."
She said women were doing great things in rural areas and across the state that needed to be promoted, " so I am going to promote these issues that would help improve the wellbeing of women and girls."
On her part, Mrs. Zahra Adamu, a participant said the training had added value to her and she would leveraged the knowledge acquired to improve her reportage of women issues in the state.
Also speaking, Miss Bome Samutar, acting chairperson, Nigerian Association of Women Journalists (NAWOJ), Gombe State chapter commended the US Embassy and OISD for training its members in the state, adding that the training was educative and eye-opening.
Our correspondent reports that some aspects of the training was in the art of investigative, solution, data driven and infographic journalism in uncovering issues that concern women and girls.
The theme of the workshop is "She Exists" Promoting Equity and Equal Opportunities for Women in Media.