Police Boss Boosts Officers Welfare In Kano State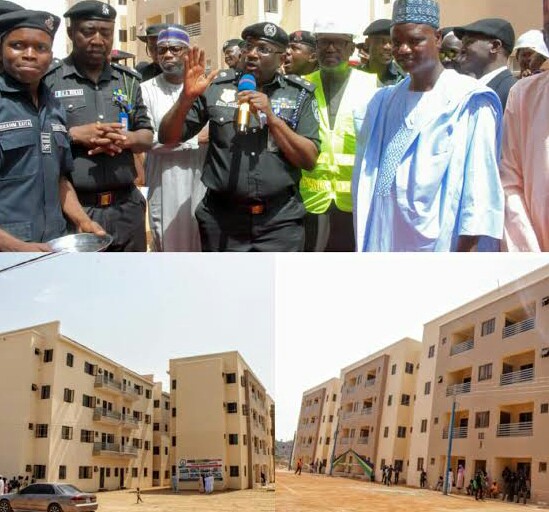 By Mukhtar Tijjani

The Inspector General of Police, IGP Usman Alkali Baba, has improved the welfare of officers and soldiers of the Kano State Police Command by providing them with adequate housing, as 88 of 206 apartments at the Bompai barracks were turned over to recipients.

The IGP urged them to reciprocate the gesture by discharging their job effectively and efficiently.
He said the project was executed under the Public Private Partnership, PPP with Vlaar homes limited and aimed at providing a conducive working environment for officers and men.

According to him, the building which is part of several constructions at various locations in the State Command would provide a conducive working environment for officers and men to do the needful in crime prevention and control and maintenance of law and order.
"More accommodations – offices, residential apartments and commercial shops are underway to enhance the welfare and effective/efficient service delivery of officers and men of the Command.
" I urge the officers that will benefit from these welfare packages to reciprocate by being committed and dedicated to the duties assigned to them, and that will encourage the authorities to do more for the Force," IGP Baba however stated.
The Police Chief was represented by the Commissioner of Police, CP Mamman Dauda.
The contractor, Abubakar Bashir said the building construction which comprises 206 apartments, offices and warehouses, among others was kick started some 12 months ago, while it delivered the 88 apartments under phase one, he promised to complete phase 2 in the next 7 months.
Meanwhile, the commissioned building comprises Eleven (11) Blocks of 2-Bedrooms flats consisting of Eighty-Eight (88) residential apartments at the Bompai barracks and handed to officers who were earlier ejected from the old buildings to enable the construction of the new edifice.
In a related development, the Commissioner of Police, CP Mamman Dauda under the IGP's Group Life Assurance and Family Welfare Scheme, presented cheques amounting to N18.7 million to thirty (30) Next of Kin and families of deceased Police Officers.
He urged the beneficiaries to judiciously use the money for the upkeep and welfare of the families.
"The IGP's welfare scheme was meant to ameliorate the suffering or hardship faced by the deceased immediate family before the benefits of such officers are paid," said the CP.