Governor Radda Reaffirms Katsina State Government's Support for NECO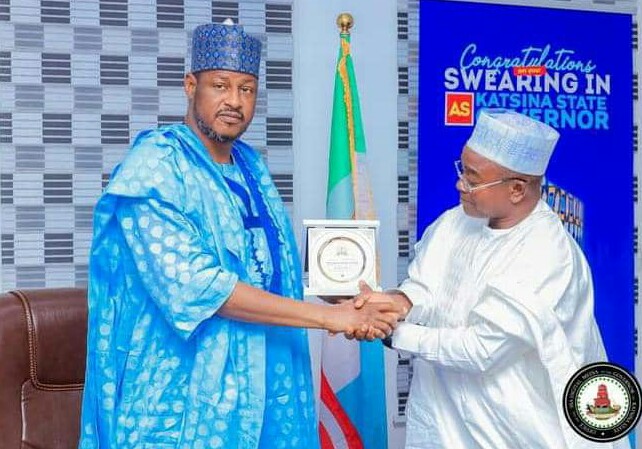 By Our Correspondent
Katsina State Governor, Dikko Umar Radda has reiterated his administration's commitment to support NECO, as he acknowledged the vital role the examination body plays in the education sector.
Governor Dikko Umaru Radda of Katsina State disclosed this while receiving the Registrar/CEO of the National Examination Council (NECO), Professor Dantani Ibrahim Wushishi, in his office.
Governor Radda praised NECO's efforts in conducting examinations and expressed gratitude for the visit. He assured the Registrar that Katsina State would maintain and strengthen its collaboration with NECO.
The Governor specifically noted NECO's request to conduct the Basic Education Certificate Examination (BECE) for the state and promised to consider the proposal diligently.
"The certificates issued by NECO are well-respected not just within Nigeria but also beyond our borders," Governor Radda stated.
He urged the examination body to submit a formal proposal for the state's consideration on the matter.
The Governor also commended NECO for selecting Katsina as the site for its zonal headquarters and pledged to harness the opportunities presented by this decision.
Professor Wushishi expressed his appreciation for the warm reception and emphasized the significance of the monitoring exercise for the Senior Secondary Certificate Examination (SSCE) in Katsina State.
He underscored the purpose of his visit, which is to strengthen the collaboration between NECO and Katsina State.
In his appeal to the Governor, Prof. Wushishi requested the state's authorization for NECO to conduct the BECE within its borders.
He highlighted the advantages of NECO's examinations, citing broader exposure for students and increased opportunities for the people of Katsina State to participate in national affairs.
The Registrar also lauded the state's remarkable performance in NECO-conducted exams since 2018.
Prof. Wushishi informed Governor Radda that NECO had already commenced construction of its Zonal office in Katsina, which would further solidify the organization's presence in the state.
The meeting concluded with both parties expressing their enthusiasm for greater collaboration and partnerships in the education sector.
The Governor's reassurance of support for NECO and its commitment to enhancing educational opportunities in Katsina State signifies a promising future for students and educators alike.
Ibrahim Muhammad Kaulaha
Chief Press Secretary to the Governor.