Senator Akpabio / Barau perfect combination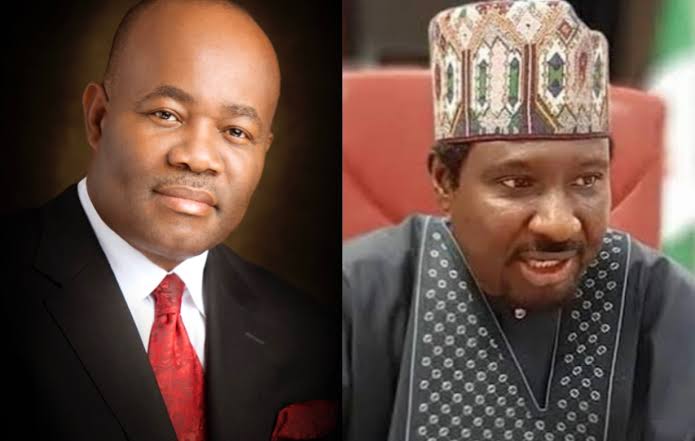 Abba Dukawa
Since the beginning of the Fourth Republic in 1999. South-East has produced five Senate Presidents. The South-South zone has not produced a Senate President. In the 1960, the Northwest geopolitical zone has never produced a Senate President.
Most of the time Southeast geopolitical zone produced the senate president records show that under the National Council Of Nigeria And The Cameroons (NCNC) late Nnamdi Azikiwe as senate president in 1960, Dennis Osadebey is a South-south who led the senate in 1960-1963 and also Senator, Nwafor Orizu served as Senate President from 1963-1966
During the Second Republic (1979–1983) under National Party of Nigeria (NPN) senator Joseph Wayas served as Nigeria's third Senate President and was the only South South serve as Senate President. In the third Republic, North Central geopolitical zone produce, Senator and was replaced by Ameh Ebute equally from North-central both led the senate under Social Democratic Party of Nigeria (SDP).
In the forth republic in 1999, under Peoples Democratic Party (PDP) regime, Evans Enwerem, a South easterner, became the Senate president He was succeeded by late Chuba Okadigbo from Southeast 1999-2000 same PDP; Anyim Pius Anyim took over the Senate leadership from 2000–2003. Adolphus Wabara, from 2003–2005 Senator Ken Nnamani 2005–2007 served as Senate president from the South-east.
North-central under PDP, Senator David Mark, 2007–2015, Abubakar Bukola Saraki 2015–2019 APC/PDP and now Ahmed Lawan of APC 2019 to present from North-East. Nevertheless North-west geopolitical zone accounted for the highest votes to All Progressives Congress (APC) since it's was formed in 2013. the zone significantly demonstrated its political strength from 2015-2019 and now at just concluded elections which brought in President-elect, Asiwaju Bola Tinubu.
Before ruling governing party announcement on the zoning of the leadership of the 10th National Assembly. South South and North West has never produce Senate President. For North West, half a loaf is better than none, in spite is less than what the zone wanted. Before the Zoning made all stakeholders has been consulted. APC consider national interest, equity and inclusion. As The party looking at some very solid parameters in ensuring that every region gets a fair share on the zoning of 10th National Assembly leadership.
Thus the party picked Senator Godswill Akpabio as Senate President – North West-Senator Barau Jubrin (Kano). Deputy Senate President are perfect combination. Even though one of the leading aspirant for Senate president from South East was among the APC Igbo elites who padded a 2 million votes from region to Peter Obi. They should remember senate president is not they birth right every region of this country can.
In addition to 2 million votes from region to Peter Obi, but one of the leading aspirant of senate president he never attended all the engagements the president elect had. But he was one of the first politicians visiting president elect for consultation and support after winning the APC Presidential ticket. But all through Tinubu's campaign throughout the length and breath of Nigeria never joined him or campaigned for APC.
From 2007 to 2015, during his tenure as two term Governor, Godswill Akpabio patented the phrase 'uncommon transformation' by his unprecedented governance deliverables in human and infrastructural development. He initiated and completed landmark infrastructure projects, including the Godswill Akpabio International Stadium, also known as Nest of Champions, one of the best such facilities in Africa.
He constructed strategic flyover bridges, the pipe jacking drainage system in Uyo Metropolis, the Four Points by Sheraton Hotel, Ikot Ekpene and a labyrinth of urban, semi urban and rural road network, all of which added to the transformation of the state's development landscape.
Senator Godswill Akpabio will be remembered in the outgoing electoral season for his exemplary act of political maturity and nationalist inclinations, when he stepped up and stepped down for Asiwaju Bola Ahmed Tinubu, the eventual winner of the APC Presidential Primaries.
By that display of team spirit, he stood out on that June night at the Eagle Square as an example in commitment to greater goals. He provided a bold example that was followed by other presidential aspirants.
It is against this background that Senator Godswill Akpabio's people skills and political dynamism can be measured. In a PDP governed state, he not only won a landslide victory with 115,401 votes to regain the Ikot Ekpene Senatorial District seat that he lost in 2019 but helped to secure a statewide vote tally of 160,620 votes or 32% vote share for the APC's Presidential Candidate.
It is pertinent to note that Senator Barau Jibrin proved himself as political heavyweight in the District defeated his closest challenger, Dr Abdullahi Baffa Bichi of the New Nigeria Peoples Party. The senator bring alone APC member reelected from the Kano North Senatorial District in the last presidential and national assembly Election. Against all the odd remind grassroots politician in slowing Kwankwasiyya tsunami in his senatorial district. As the tsunami caused serious damage to the governing ruling party in the state by unseated 17 serving APC members in the green chambers with 2 senators in the red chamber by NNPP.
He is a true believer in qualitative representation, took an active part in every debates on the floor of the House and was fast recognized as one of the most brilliant minds in the both green and red chambers of the National Assembly. An active senator in one motion Jibrin Barau, leading the other 61 senators, infused the senate to mandate its Committee on Industries, Privatisation, and National Planning to undertake an immediate inventory of all closed-down industries.
They asked the committee to investigate why the industries collapsed and proffer solutions for their revitalization. He thereafter propelled the Senate to call on the executive arm of government to create enabling policies that would encourage unemployed youths to set up cottage industries. Senator Barau also presents many motions, and bills.
Godswill Akpabio and Barau Jubrin remain vociferous and courageous campaigned for APC and Tinubu. Akpabio never stood on the fence. He was everywhere together with Adams Oshiomole, Ben Ayade and Omo Agege, they raked in almost a million votes for APC from a PDP dominated region.
Dukawa write in from Kano